Take a good, hard look at your garage. What do you see?
Is it a disorganized mess you don't want to spend any time in? Would you consider it an eyesore? Is it, perhaps, an unsafe place that you don't let your children in for fear that they might get hurt?
If your garage is currently unusable, know that it doesn't have to be this way. You can take proactive steps to beautify your garage and make that space functional, attractive, and safe. Here are some ideas to get you started on your garage renewal mission!
Don't Treat Your Garage Like a Dump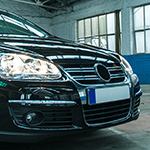 We've all done this at some point: We use the garage as our own, personal dumping grounds. Far too often, and far too easily, the garage becomes a catch-all, the place that holds what we don't want inside our living quarters, but that we're not ready to part with yet.
If you look through your garage and see boxes that haven't even been opened since you moved in, it's time to open those boxes and process what's inside. If there are things you want to keep, find suitable storage spaces to properly store these important items. You can use your garage, basement, closets, or attic for storage, but it's important that you invest in clear, see-through bins, decorative baskets or boxes, and sturdy shelving to store your items in an orderly manner. If you no longer have any use for what's inside the moving boxes in your garage, give these items away, recycle them, or throw them away.
Your garage may also have empty paint cans, pieces of building materials left over from home remodeling projects, and other miscellaneous items that you meant to get rid of but haven't yet. Again, give away what's still usable, recycle what you can, and discard the rest. This alone will make a big difference, and it'll make way for the next garage beautifying steps.
Organize What's Left
Now that you've gotten rid of the junk, the trash, and the old stuff you no longer need or want, it's time to get your garage space organized. Invest in low-cost shelving to organize your tools and toys. Create zones, which will help you find what you need when you need it. For example, store all of your winter skis, skates, and other recreational items in one area; keep your yard tools in another zone.
For more ideas on how to get your garage organized, read our previous blog, 6 Tips For An Organized Garage.
If Size Allows, Create A Workshop Space
Not every garage is large enough to fit this in, but after you've taken out what you don't need and organized the rest, you might be surprised to find a corner or section that, with a little planning, can become your own personal workspace. Whether for crafting, woodworking, art projects, interior design work, metalworking, or anything else that interests you, a space in your garage to work in away from everyone else may be doable, and for many, it's the dream!
Use The Walls And Ceiling For Storage
One way to create that workshop space for yourself is to utilize more of the walls, as well as the garage ceiling, for storage. Hang your bicycles from the rafters or joists. You can use an empty section of a garage wall to hang your gardening tools. Get creative, and make the most of your wall and ceiling space.
Beautify Your Garage Floor
With your garage now in order, there's one important job left to do: beautifying your garage floor. You can accomplish a great look while maximizing the functionality of your garage space through the professional application of garage floor coatings.
By beautifying the floor in your organized garage, you're maximizing the safety of this space. Floor coatings smooth the garage floor surface, eliminating cracks in the concrete and creating a smooth surface that nobody will trip on.
Contact Floor Coatings USA
We specialize in attractive garage floors you'll be proud to show off and happy to spend time around. More than just the icing on the cake, a garage floor that's finished with a strong, durable coating turns your newly organized garage into a functional space where you can get creative. Give Floor Coatings USA a call today to find out how we can help you transform your garage into a welcoming space!